Nouveau Site Sticker en ligne
Un post pour suivre l'avancement de la mise en ligne de notre nouvelle plateforme pour la fabrication de vos produits imprimés.
Imprimerie en Ligne 100% Stickers
Depuis 2014, le site sticker-en-ligne imprime tous types de stickers-autocollants. La première version du site proposait uniquement des stickers vinyle et papiers. La mise à jour sur la seconde version nous a permis d'étoffer nos produits en proposant une gamme d'adhésif grand format. Cela fait maintenant 3 ans que la version n°2 de notre site est disponible. Il est donc temps de travailler sur une nouvelle boutique. Le design commence à vieillir et nous devons faire des mises à jour de sécurité. Le nouveau site Sticker en Ligne vous proposera plein de nouveautés. Nous vous les dévoilerons au fur et à mesure de leur mise en place sur cette article. Affaire à suivre !!!
Installation du nouveau serveur de développement en cours - Bon il faut avoir un peu d'imagination pour voir un joli site, il nous reste pas mal de boulot là. To be continued
Info Septembre
La rentrée est bien avancée avec son lot d'informations centrée sur le Covid.
Il est temps pour nous d'avancer sur la nouvelle plateforme.

La partie développement est bien engagée : chargement des fichiers, visualiser un devis en ligne, recevoir et valider un bon à tirer en ligne. Installation sur la boutique test en Octobre.

Le design aussi est en cours finition : un nouveau logo, une ergonomie repensée pour trouver plus rapidement le produit qui vous convient, une mise en page plus moderne, bref on a hâte de mettre cette nouvelle version en ligne. .

Ouverture d'une chaine Youtube. Chaque produit aura sa petite vidéo de présentation pour mieux visualiser le rendu final .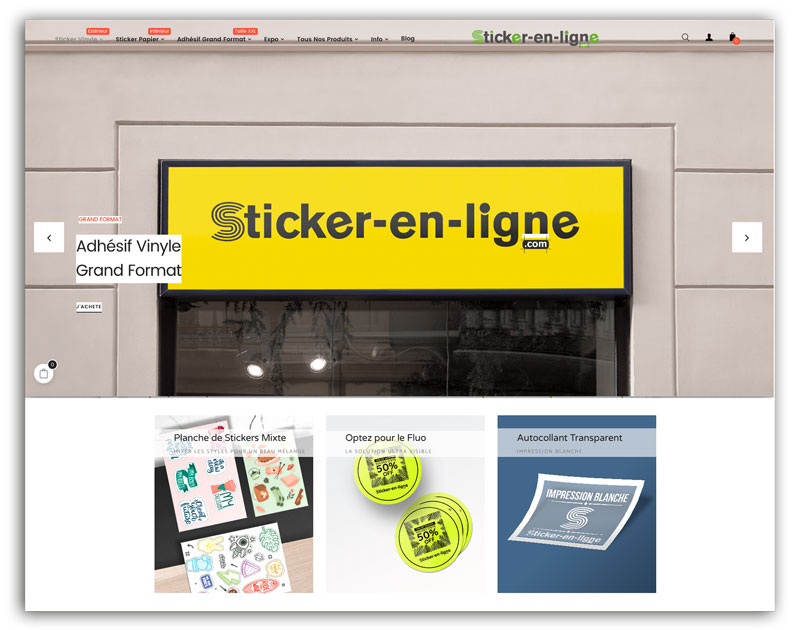 Info Décembre
Un mois de Novembre confiné + des complications de développement ! Nous avons donc pris un peu de retard sur notre planning de mise en ligne du nouveau site. Il reste quelques bugs à corriger sur la partie développement. Nous pouvons donc avancer sur la mise en ligne des tarifs et compléter les descriptifs produits.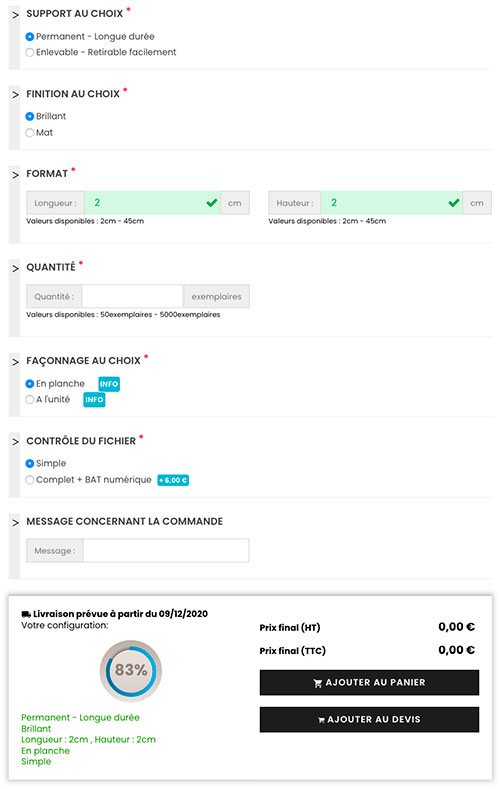 Nouveau configurateur de produit.
Vous pouvez commander le nombre exact de stickers, tous les formats sont entièrement sur mesure. La date de livraison dynamique évolue en fonction de la quantité et du format de vos stickers.
Bon à tirer numérique
Retrouvez et téléchargez votre bon à tirer numérique depuis le compte client. Validation en ligne. Vous pouvez refuser le bon à tirer et soumettre un nouveau fichier depuis le site.


Validation devis en ligne.
Retrouvez vos demandes de devis depuis l'espace client. Vous pouvez valider votre devis en ligne directement et nous joindre votre fichier d'impression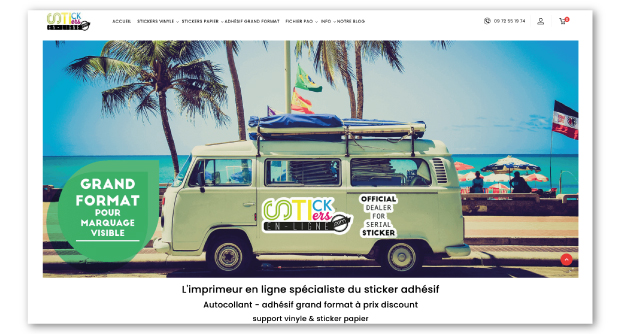 Version 2019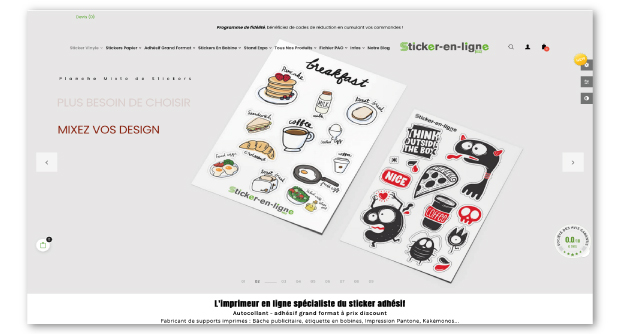 Version 2021
Les nouveaux produits
Cette nouvelle version comporte pas mal de nouveaux produits : sticker en bobine, Impression sérigraphie, Vinyle Holographique, Vinyle sans PVC, Bâche Publicitaire, Toile Publicitaire